Our Apartment House in Radstadt
Our Seebacher apartment house in Radstadt in the Salzburg region is guaranteed to be a place where people of all ages can relax and enjoy themselves. This spacious apartment is quite comfortable and is pleasantly furnished.
Surrounded by mountains, our apartment house is situated in a central, quiet and sunny location, with stunning views of the Salzburg Alps. It is only a 10-minute walk to the delightful city centre of Radstadt.
You will find everything you could possibly wish for in our smokefree apartment . It has everything you will need to feel right at home:
Cable TV
Free Wi-Fi
Fully equipped kitchen with Dishwasher
Laundry facilities/towels
Separate bedrooms
Bath
WC
Large private balcony
Parking space
Ski bus and cross country skiing course nearby
Upon request, we can provide delivery of rolls. We will be happy to provide cots and high chairs for our youngest guests.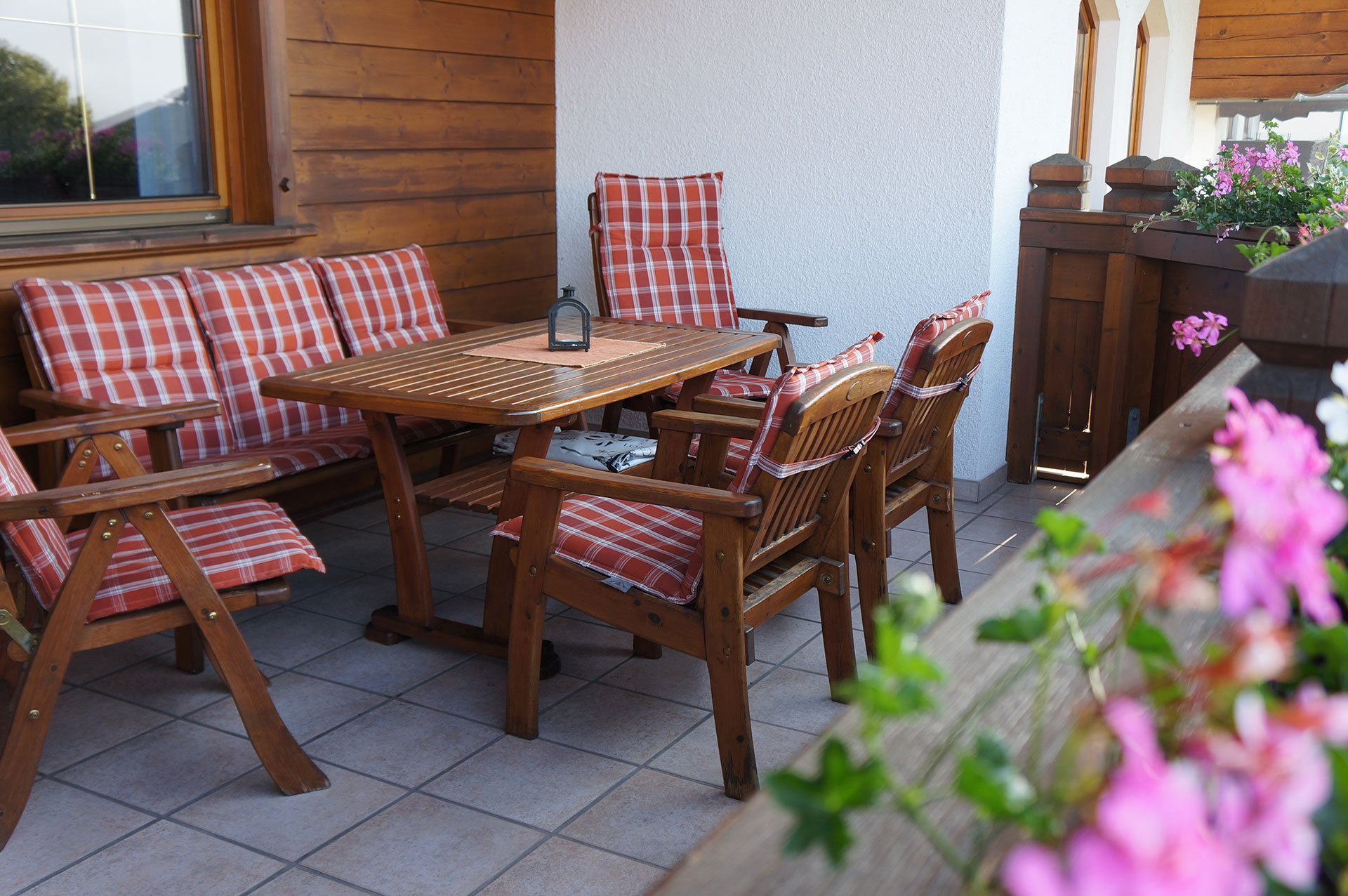 Radstadt and surroundings
Whether in summer or winter – here in Radstadt you will never be bored during your holidays. In the warm months, cycling and walking tours are of course especially popular. On the cycling path that runs by the building, you can jump on your bike right outside the door and get going.
If you like to hike, Radstadt has lots of choices of places to go. Glorious mountains, stunning mountain lakes, and a fabulous view no matter where you look. Sounds fantastic, right? Be sure to stay on the marked trails so that you won't get lost. These trails will take you past many intimate mountain huts. Here you can enjoy incredible mountain views along with Austrian snacks, or maybe try a taste of Kaiserschmarrn, a delectable traditional pancake treat.
If you play golf, you won't find a better spot than Radstadt. The Radstadt Golf Club is just the right setting to improve golfing skills even more.
Winter sports enthusiasts flock to Radstadt. And why shouldn't they? The Ski Amadé is just a stone's throw away. With its network of skiing attractions, Radstadt-Altenmarkt is the perfect place for the whole family. Here you will find perfectly-groomed slopes, hospitable ski lodges with super viewing platforms. and up-to-date lifts.
If you want to make an excursion to the nearby ski areas of Obertauern, Reiteralm, Flachau or Zauchensee, our complimentary ski bus will take you there with no problem. The nearest bus stop is just a short walk away.
But skiing is not all you can do in Radstadt. You can spend your beautiful sunny winter days exploring an abundance of other things to do as well:
Cross-country skiing (in Radstadt you will find the most beautiful cross-country trails in the region)

Snowboarding

Tobogganing

Ice skating at a natural ice rink

Curling

Snowshoeing

Sleigh rides

Winter horseback riding

Winter hikes
What about some natural scenery and traditional culture?
Anyone who has been to Radstadt knows that is has that very special atmosphere.
In Radstadt, friendliness, courtesy and politeness are the rule of the day. We place great value on hospitality, and our guests pick up on this right away.
What makes this setting so special, is the mix of sports, conviviality, natural scenery – and of course adventure.
Over the years, more and more shops, restaurants and cafes have put down roots in Radstadt. And shopping isn't given short shrift either. You can shop till you drop in the many shops that abound. You will find just the right place to shop for fashions, decor for your home, or hi-tech items.
For art lovers, a visit to Radstadt is definitely worth the trip. Radstadt is an area rich in history. You will find an ancient city wall with three towers.
And the many restaurants in Radstadt will tempt you with their endless variety of gourmet delights. From typical Austrian specialties to international cuisine – here you will find all you need to tickle your palate.
Rates & seasons 2020/2021
Winter season: 19.12. - 06.01.21 / 30.01. - 27.02.21
2 persons
€ 62
3 persons
€ 90
4 persons
€ 95
5 persons
€ 105
6 persons
€ 115
Winter season: 01.12. - 19.12.20 / 06.01. - 30.01.21 / 27.02. - 24.04.21
2 persons
€ 55
3 persons
€ 80
4 persons
€ 85
5 persons
€ 95
6 persons
€ 105
Summer (= Default Price): 24.04. - 01.12.21
2 persons
€ 40
3 persons
€ 55
4 persons
€ 75
5 persons
€ 80
6 persons
€ 110
MISCELLANEOUS:
Check in by appointment
Check out by 10:00 a.m.
INCIDENTAL EXPENSES:
Cleaning per apartment € 35.00
Tourist tax per person per day €1.50
Pets are not allowed